Innovation Series (Part 2 of 5): Defining Innovation in Leadership
Part 2 breaks down examples of what innovation leadership does/doesn't look like, the varying definitions of "innovation leadership," corporate pandemic denialism, and more!
---
Links to the previous posts:
---
Innovation Leadership Definition
Is there a single and straightforward definition of innovation leadership?
Secondly, can one person be appointed as a company's sole "Innovation Leader"?
Let's hope not!
David Gliddon defines innovation leadership (based on Everett Roger's Diffusion of Innovation paper) as innovators, early adopters, opinion leaders, and change agents (Gliddon, 2006).
Why is that important?
Good question! I'm wondering that myself (kidding).
In my opinion, innovation leadership isn't a single position within a company per se; instead, it relies on diverse skill sets, knowledge, different ways of thinking, and more. Plus, all of that needs to mesh with a company's overall goals, products, internal communication, and the list goes on.
Not easy.
At the same time, digital innovation seems increasingly more difficult to implement because its very definition is misleading and, let's face it, can be easily misunderstood. Add in a shifting workforce, a dash of ill-defined CSR, and a sprinkle of pandemic denialism, and well, you can put two and two together.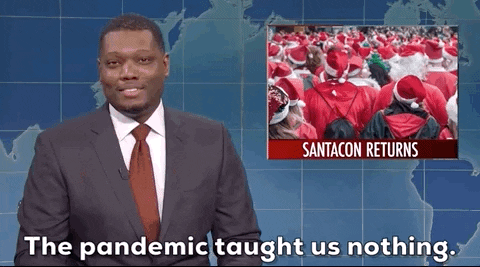 Or can you/we?
This brings me to my next point: a single person cannot be the sole "innovation leader" within a company because it takes a team to acquire that amount of know-how. So yeah, you can have someone steer the innovation strategy, but if they're the only ones running — you have a problem.
Of course, sadistic leaders (like the ones pushing employees back to in-office-everything amid a pandemic) may not be the easiest to convince regarding this. However, that's a whole different article. (Update: Like this one regarding the psychology behind why some leaders are resisting a hybrid work model.)
So does leadership differ in innovative organizations?
Based on what I've read, the work I've done as a business analyst, and throughout college-level corporate innovation and leadership courses, it seems that the answer is "yes."
While researching sources for this topic, a suggested YouTube video popped up titled EMPATHY – BEST SPEECH OF ALL TIME By Simon Sinek (Inspiritory, 2017).
In the video, Sinek gives examples of good and bad leadership styles based on a conversation with an enthusiastic barista at the Four Seasons Hotel in Las Vegas. During the conversation, the barista mentioned that they previously worked at Caesars Palace and why it wasn't as rewarding. (Watch the video for the deets.)
So, how does the video relate to innovation leadership as compared to the hotels?
Both hotels announced innovation plans this year!
In January 2020, Four Seasons launched its initiative to embody its commitment to setting the highest standards for guest experiences (Four Seasons Press Room, 2020).
Caesar's innovation plan was announced (two months later) and will be an innovative tech hub to test and showcase new hospitality and gaming concepts (Caesars Entertainment, 2020).
Not to play favorites here, but that barista might have been on to something.
When researching both companies at the time of this post, Caesars might have been (more than two months) behind when referring to their innovation leadership strategy. Not 100% sure, though.
However, to simplify, I looked up Google ratings/reviews for both Caesars Palace and Four Seasons Las Vegas to garner some possible insight compared to what that barista told Simon Sinek in the video. Below are some screenshots.
Summing Up
As we can see, the Review Summary of both hotels looks similar. However, considering what we've read and watched from this post, the above service ratings could perhaps take on a whole new level of meaning. Possibly Caesars might need more than an innovation hub to help bridge the disconnect(s)? Or maybe they're on to something. Or not?
?After reading the sources below, which hotel might have a more defined innovative leadership strategy?
In part three, we start with what is so tricky about innovation, and then we dive into some key roadblocks.
---
Main Sources:
Caesars Entertainment. (2020, March 9). UNLV and Caesars entertainment create innovative technology hubs to test and showcase new gaming and hospitality concepts. Retrieved from (this was the original link used https://www.caesars.com/corporate/newsroom/press-releases/unlv-and-caesars-entertainment-create-innovative-technology-hub-, but it is no longer available. Instead, click here for a similar reference link)
Cognitive Leap. (2020, November 18). Simon Sinek – EMPATHY – One of Simon Sinek's best speeches EVER. Retrieved from https://youtu.be/oUWMgHyf1bg
Four Seasons Press Room. (2020, January 27). Excellence meets innovation: four seasons to debut new hotels, resorts, private residences, and more in 2020. Retrieved from (This was the original URL, but it no longer works:
Gliddon, D. G. (2006, February 2). Forecasting a Competency Model for Innovation Leaders Using a Modified Delphi Technique. Retrieved from https://etda.libraries.psu.edu/catalog/6994
Some reports on this site were excerpted, edited, or screenshotted from publicly available information (through research firms, third parties, public health organizations, etc.). With that said, this website and blog are for informational purposes only. Reports, reviews, and experiences on this website are opinions expressed by the author and do not purport the opinions or views of others. Also, this post/page does not establish a Jarred Andrews-client relationship. For additional info, please refer to my
disclaimer
. For information on how to properly download, share, or copy content from my site, please review the
copyright
,
privacy policy
, and
terms
pages. If you cannot find what you need, please reach out.